🔍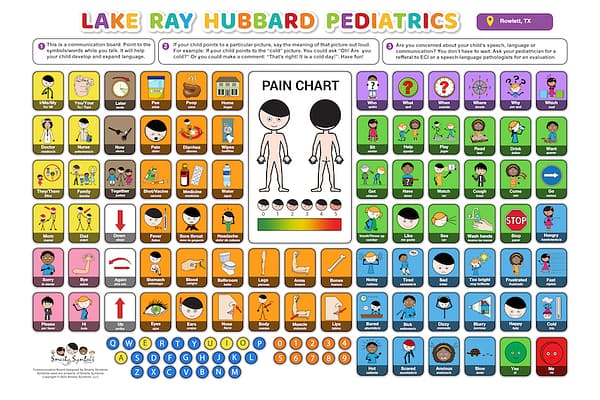 Communication Board for Pediatric Clinic Waiting Rooms
$1,105.00 – $3,160.00
Instructions printed on every board:
Teachers: Let's help normalize the use of this communication board. Children can learn new vocabulary, combine tapping on images to make phrases, and use it to interact with you and their peers. If you are concerned about your student's speech and language, chat with the speech-language pathologist.Maestros: Ayudemos a normalizar el uso de este tablero de comunicación. Los niños pueden aprender vocabulario nuevo, combinar el toque en las imágenes para formar frases y usarlo para interactuar con usted y sus compañeros.
Kids: This is a board that can be used to communicate with your friends. Point to the picture to show what you mean. When a friend points to it, you can read it outloud and respond using your speech or by pointing to another picture.
Niños: este es un tablero que se puede usar para comunicarse con tus amigos. Señale la imagen para mostrar lo que quiere decir. Cuando un amigo lo señala, puedes leerlo en voz alta y responder usando tu voz o señalando otra imagen.
Be creative! Have fun! How many different ways of using symbols to communicate can you think of? Invite new friends to play or join in a play with a new friend. All forms of communication matter!
¡Ser creativo! ¡Diviértete! ¿Cuántas maneras diferentes de usar símbolos para comunicarse se te ocurren? Invita a nuevos amigos a jugar o únete a un juego con un nuevo amigo. ¡Todas las formas de comunicación importan!
ABOUT THE BOARD:
👦𝐂𝐇𝐈𝐋𝐃 𝐂𝐎𝐌𝐌𝐔𝐍𝐈𝐂𝐀𝐓𝐈𝐎𝐍 𝐁𝐎𝐀𝐑𝐃: It is built to withstand outdoor elements and last for 5+ years. Playground communication board made of high-density PVC Sintra plastic and features a weather-resistant, acid-free satin (or glossy) finish. It comes in 3 sizes (M, L & XL) with fade-resistant UV ink in 4 colors (Red, Blue, Green & Black) on eco-friendly plastic, with a 6mm rigidity score and lightweight design. it's easy to install, With 4 standard grommet holes.

🌈𝐁𝐑𝐈𝐆𝐇𝐓 & 𝐄𝐍𝐆𝐀𝐆𝐈𝐍𝐆 𝐆𝐑𝐀𝐏𝐇𝐈𝐂𝐒: Our nonverbal communication board for autistic children features vibrant graphics and symbol that inspire kids to participate and interact with it. The graphics are appealing and easy-to-understand, making it ideal for children with diverse learning needs. The autism communication board uses Smarty Symbols, an internationally recognized special education image set, and internationally recognized color coding system for effective communication

🏄𝐕𝐄𝐑𝐒𝐀𝐓𝐈𝐋𝐄 & 𝐈𝐍𝐓𝐄𝐑𝐀𝐂𝐓𝐈𝐕𝐄: Our school board for picture exchange communication promotes inclusion in your school. It is suitable for various activities, games and ideal for non-speaking children to practice communication skills. Children can engage in imaginative play, communication exercises, and group games for endless interaction and fun. This board not only provides enjoyment but also helps toddler speech therapy develop important communication skills.

📚𝐄𝐃𝐔𝐂𝐀𝐓𝐈𝐎𝐍𝐀𝐋 & 𝐅𝐔𝐍: The kids communication device provides a fun and educational tool for kids. It teaches important social and emotional skills, while promoting imaginative play and group games. Children will learn about communication modes, and the board helps develop valuable communication skills that will benefit them. This board is a valuable non verbal communication board for promoting learning and development in a fun, engaging way. Special education classroom must haves.

💯𝐀𝐂𝐂𝐄𝐒𝐒𝐈𝐁𝐋𝐄 𝐅𝐎𝐑 𝐀𝐋𝐋: Playground Communication board autism is designed with making sure all children feel included in the playground regardless of their communication levels. The symbols design were specifically created for communication. This means that children with diverse learning needs, as well as children with limited language skills, will be able to participate and engage with their peers in the playground. It specially uses as communication device for non verbal kids.
Description
This board was designed specifically to be placed in the waiting rooms of pediatric clinics. We have included vocabulary words that are more pertinent to this location.
Plastic: Durable plastic signs printed with UV ink on  6MM PVC plastic (sintra). Long-lasting signs for indoor or outdoor use! Our plastic boards can be placed on wood back post or attached to fences with zip ties or other methods.
Wooden: Weather resistant wooden signs printed using a four-color UV printing process on high-density fiberboard. Four color process, eco-friendly, weather, fade and abrasion resistant UV ink. 5" thick (about the thickness of 127 sheets of copy paper)
Aluminium:
Estimated Lifespan:5+ years with proper placement and care
Additional information
| | |
| --- | --- |
| Material | Wood, Plastic, Aluminum |
| Size | Medium ( 27×18 inches), Large (36 x 24 inches), X-Large (45 x30 inches) |
| Language Options | English Only, Bilingual Instructions, Fully Spanish + English |
| Background Color | White, Red, Blue, Green, Orange, Brown, Purple, Navy, Gray |
| Include your Custom Logo | No, 1 Logo +$150 |
| Include Sponsor Logo | No, Yes +$150 |
| Edit Vocabulary | No, Change up to 5 words +$180, Change up to 10 +$300 |
| Custom Icon Design | No Custom Icon, 1 Icon +$180, 2 Icons +$340, 3 Icons +$540, 4 icons +$720 |